---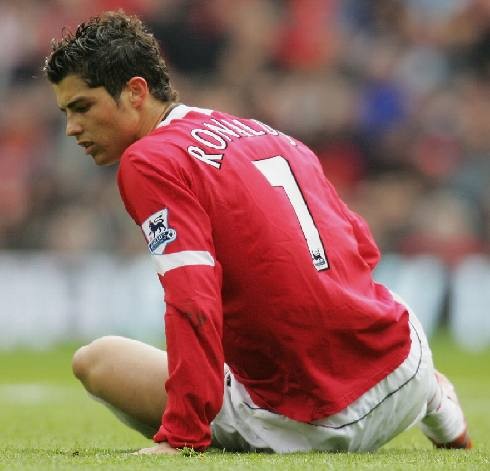 Cristiano se narodil 5. února na portugalském ostrově Madeira. Svojí rodinu si cení nadevše. Jeho fotbalový příběh začal na ulici, když si mladý Ronaldo kopal míčem o zdi přilehlých domů. V 12 letech začal hrát opravdový fotbal, když ho zapsali jako krajního obránce do klubu Adorihna. O hráče se začaly zajímat přední španělské kluby jako je FC Porto či jeho městský rival Boavista. Cristiano ale nechtěl okusit atmosféru ani jednoho z nich, oblíbeným klubem Ronalda byl totiž Sporting. Právě tento klub po něm v jeho 13 letech sáhl a zaplatil za něj v přepočtu 1500 liber.
V prvních několika měsících hrál Ronaldo ještě na postu obránce. Postupně však začínal všem dokazovat, že je obrovský talent a že to s míčem rozhodně umí. Rodina, trenéři i příbuzní obdivovali jeho nejen fyzickou ale i psychickou vyspělost. Ještě jako mladý se propracoval do A-týmu Sportingu. Lidé mu přidělili přezdívku "nový Patrik Kluivert", a to kvůli podobnému stylu hry, který prezentují nizozemští útočníci.
Svůj první opravdový zápas hrál Ronaldo proti klubu z Moreirense. Po tomto zápase si získal přízeň fanoušků. Střelil při premiéře dvě branky, což je úctyhodný výkon. Brzy se na vlastní kůži přesvědčil, jak ho příznivci klubu obdivují. Střelil branku v zápase proti Boavistě a dostal se na úplný vrchol.
Na ME do 17 let ho sledovali skauti z celého starého kontinentu, mezi jinými lidé z Juventusu či Liverpoolu. Velký zájem o něj nastal poté, co portugalská reprezentace porazila Anglii. A strůjcem vítězství nebyl opět nikdo jiný než Cristiano Ronaldo. Po skončení první sezóny ve Sportingu to byl právě Liverpool, kdo chtěl získat služby mladého Portugalce. Sporting byl totiž na vrcholu portugalského fotbalu a Ronaldo s Quaresmou byly hlavními postavami týmu. Bohužel se oba rozešli v jiných směrech.
Během přátelského utkání Sportingu s Manchesterem byl na hřišti Cristiano hráčem č.1. Právě kvůli němu tehdy United prohráli 1-3. Po zápase měl Sir Alex jasno, na seznamu posil se Cris usadil na první příčce. Fanoušci i samotní hráči tlačili na Fergusona, aby Ronalda koupil. Nakonec byly modlitby příznivců United vyslyšeny a Cristiano brzy přestoupil za 12,24 do Manchesteru United. Stal se tak nejdražším mladým hráčem.
12. srpna 2003 - to je datum, které si mladý Portugalec zapamatuje do konce života. Ten den totiž v červeném dresu s magickým č.7 debutoval. Před ním sedmičku nosily vždy velké hvězdy esa týmu jako George Best, Bryan Rondon, Eric Cantona či David Beckham. Byl také pyšný na to, že dostal stejné číslo jako jeho idol - Louis Figo. Byl to zápas proti Boltonu Wanderers a Ronaldo všechny oslnil. Fanoušci mu vestoje tleskali a stal se hrdinou zápasu. Další den se už Cristiano probudil jako velký idol všech fanoušků a tentýž den o něm noviny psaly jako o novém Georgi Bestovi.
Od začátku si Cristiano hru v Manchesteru velice vychutnával, na jeho kličky a finty byla a je radost se dívat. V roce 2004 pomohl Manchesteru k zisku FA Cupu, když ve finále vstřelil jeden gól. Alex Ferguson po zápase prohlásil, že Ronaldo bude patřit k největším hvězdám fotbalu. Vše zatím nasvědčuje tomu, že se nemýlil. V sezóně 2004/05 Ronaldo skvěle obrátil zápas proti Arsenalu a svými dvěma góly se podílel na výhře Manchesteru 4:2.
19. sprna 2005 se na policii v Manchesteru přihlásily dvě ženy, které měl údajně Cristiano znásilnit. Cristiano se ale nelekl a dobrovolně přišel k výslechu dokázat svoji nevinu. Je těžké být v tak útlém věku slavným, zvláště tak jako Cristiano. Byl to jeden z mnoha případů ve světovém fotbale, jak se nečestní lidé snažili vymanit peníze, provokovat či nechvalně proslavit. V létě roku 2005 se také hodně spekulovalo o jeho možném odchodu do Realu, Barcelony či Chelsea. Portugalec se ale rozhodl zůstat věrný anglickému klubu a jako důkaz prodloužil smlouvu až do roku 2010.
V sezóně 2005/2006 nastřílel celkem 12 branek včetně 30-ti yardové střely, kterou fanoušci Manchesteru United označili jako nejkrásnější gól sezóny. Začátek zmíněné sezóny ale dobrý vůbec nebyl, neboť 7. září 2005 mu zemřel otec, což Ronaldo docela těžce nesl. Další ránou bylo vyřazení ze základní skupiny Ligy Mistrů, když po posledním prohraném utkání s Benfikou to Cristiano neunesl a odešel z hřiště se vztyčeným prostředníčkem. Poměrně brzy se ale dokázal zvednout a dokázal, že s Ronaldem to nebudou mít soupeři vůbec snadné, vše se vrátilo k normálu.
Přesto v létě roku 2006 další rána. Na skvěle rozehraném MS se v čtvrtfinále Portugalsko střetlo s Anglii. V něm Wayne Rooney našlápl (ať už úmyslně nebo ne) ležícího Carvalha a sudí vytahoval kartu. Cristiano, který k celému incidentu přiběhl jako jeden z prvních údajně vyprosil pro Rooneyho červenou kartu. Celá Anglie byla rázem na Ronalda naštvaná, byl to zrádce. Fanoušci se mu začili mstít, vyhrožovat mu. Kvůli nátlaku Angličanů dokonce uvažoval o změně působiště na Primera Division. Přestup do Realu se podle tisku jevil jako hotová věc, nakonec však hráč tlak ustál a po usmíření s Waynem pokračoval dál v působení v Manchesteru.
prosím každého aby jsem dolu napsal komentář jakyho fotbalistu jsem mám přidat a napsat o něm děkuji